Features
We offer a wide range of trading features.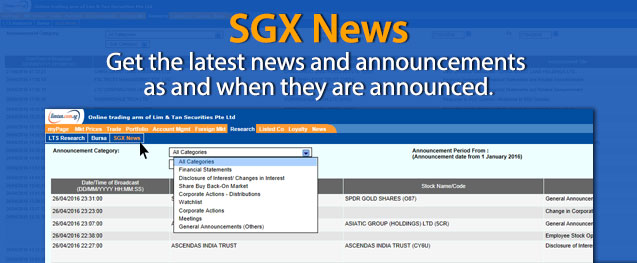 SGX News
As part of enhancing your trading experience with us, from 1 June 2016, you can now find SGX News and announcements within Lim & Tan Online Trading platform.
1. How do I access SGX News via Lim & Tan Securities Online Trading platform?
To access SGX News and announcements on individual SGX counters, please login via www.limtan.com.sg, place cursor at your preferred counter and right click to select SGX News.

Alternatively you may go to "Research" and click on "SGX News" tab.
2. What announcements are available on SGX News?
SGX News has the following categories of news and announcements:
Financial Statements
Disclosure of Interest/Changes in Interest
Share Buy Back - On Market
Corporate Actions - Distributions
Watchlist
Corporate Actions
Meetings
General Announcements (Others)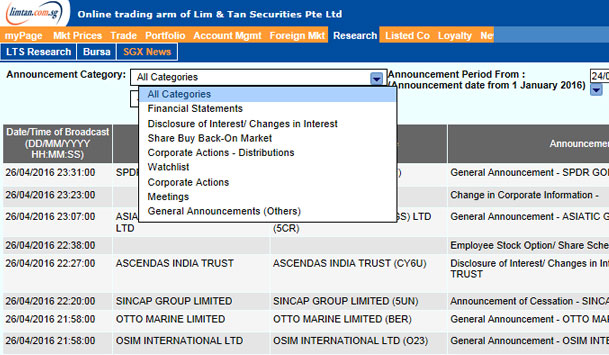 Clients may view specific information by selecting the sub-category.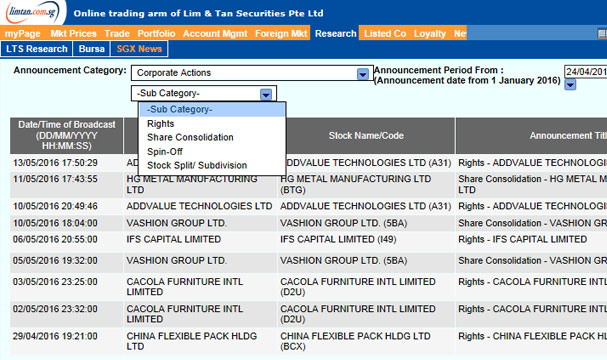 3. Can I view announcement that was released within a selected period?
4. How do I search for news and announcements for a specific counter?
To search for a specific counter, please key in the stock name/code and click on "Go".
5. How do I view the PDF attachment under announcement detail?
Access the information under announcement detail by clicking on the PDF file. You may select "Open" to view or "Save" to download.

This advertisement has not been reviewed by the Monetary Authority of Singapore.