Promotions
Trade online and be rewarded.
Account Opening Promotion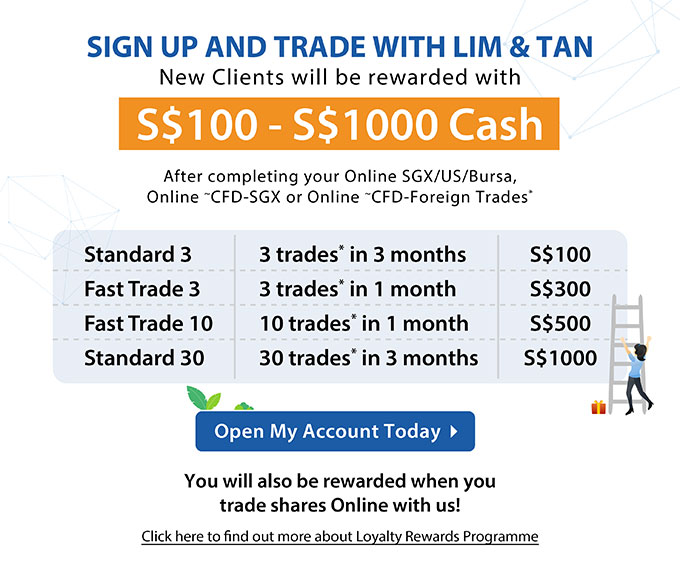 Terms and Conditions

1.

2.
3.
4.

5.

6.
7.
8.

9.

10.
11.
12.

13.

14.
15.
16.
Promotion is only applicable to a new client of Lim & Tan Securities Pte Ltd (LTS) opening an Online Cash or Online Cash with CFD-SGX/Foreign accounts.
Promotional period is from 1 September 2022 to 31 December 2022.
In the event that you are eligible for more than one sign-up promotion from LTS, only one may be selected.
Promotion is only applicable for new clients who have never received any Online Account Opening Promotion from LTS before.
Complete 3 Online SGX/US/Bursa, 3 Online ~CFD-SGX or 3 Online ~CFD-Foreign Trades* within 3 months of account opening to be eligible for S$100 Cash Rebate. Each Trade* is subject to the relevant minimum brokerage fees.
Complete 3 required Online Trades from Point (5) within 1 month to be eligible for S$300 Cash Rebate.
Complete 10 required Online Trades from Point (5) within 1 month to be eligible for S$500 Cash Rebate.
Complete 30 required Online Trades from Point (5) within 3 months to be eligible for S$1000 Cash Rebate. The actual Cash Rebate awarded will be S$1000 less any Cash Rebate awarded under Points (5), (6) or (7) above.
Contracts from separate accounts cannot be combined together to qualify for this Promotion. The client will be awarded once only, based on the first account to meet the qualifying criteria.
All Terms and Conditions pertaining to Account Application shall apply.
Qualified Cash Rebate will be credited into client's trust account the following month.
This Promotion is applicable to Online Trades done on equities listed on the Singapore Exchange, US Markets, Bursa Market and CFD-SGX/Foreign Markets only.
Only New ~CFD-SGX and/or Foreign accounts opened will be eligible for the Promotion. Finance charges rebate is applicable for 3 months from date of CFD-SGX account opening only. GST is applicable to finance charges.
LTS reserves the right to alter the Terms and Conditions at any time without prior notice.
By participating in this Promotion, you have agreed to read and accept the Terms and Conditions of this Promotion.
LTS' decision on any and all matters relating to or arising from this Promotion (including the eligibility of a client to participate in this Promotion) is absolute and final. In the event of any inconsistency or conflict between the Terms and Conditions on this website and those in any brochure, marketing or promotional material relating to this Promotion, the Terms and Conditions on this site shall prevail.

~Applicable to new LTS clients only. Existing LTS clients who open a new CFD-SGX/Foreign account is not eligible to this Promotion.
*A trade refers to a completed contract, subject to a minimum brokerage of S$25 (US$12.50, HK$100, A$25) for SGX trades, US$20 for US Markets trades, MYR 40 for Bursa Online trades and S$18 for CFD-SGX trades. For minimum brokerage for CFD-Foreign trades, please refer to CFD Foreign Markets FAQ -> Account Opening Q5. All SGX, Bursa and CFD-SGX/Foreign buy orders of the same stock fulfilled on the same day in the same account will be amalgamated into one contract. The same applies to all SGX, Bursa and CFD-SGX/Foreign sales orders of the same stock fulfilled on the same day. For US Markets, there is no amalgamation of orders. Each fulfilled US order will be treated as an individual contract and brokerage will be charged accordingly for each of the contracts. The same applies for US sell orders.

This advertisement has not been reviewed by the Monetary Authority of Singapore.